Are you contemplating on having a rustic wedding?
There is nothing new about the Rustic Wedding Theme, but this timeless look keeps on going because of its chic and romantic look. Plus it's a great way to make your wedding unique, but without breaking the wallet.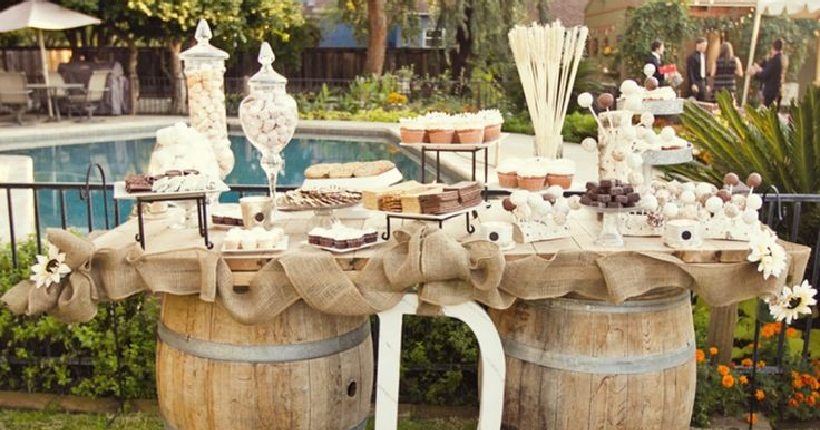 Elegante Catering Beach Wedding Services
We are here to help you, in any way possible, to make your day a memorable one! We understand that you have a vision of what this day will look like and we would love to be a part of it and help you make your rustic wedding come true.
With our 14 plus years experience, we've done our share of weddings, and we use that expertise to guide our clients to make sure that everything goes as planned.
Catering Made Simple
We want to accommodate any type and size wedding as well as the budget.
On a Budget?
No matter how big or small your budget, we want to make your rustic wedding spectacular. For smaller weddings and those on tight budgets, we offer a variety of a la carte selections and appetizers that can make any wedding feel spectacular without the price tag of a full service wedding catering menu.
Want the Full Service Wedding Catering Menu?
We offer a variety of catering menus that fit perfectly with any rustic wedding. Depending on the layout of the place, kitchen setup, electrical access points, use of a tent, weather, terrain and other on foreseen elements, every rustic wedding is uniquely designed. Give us a call or email us at contact_us@EleganteCatering.com for details.
Here are some Rustic Wedding Do's and Don'ts
1. Limit the Number of DIY Projects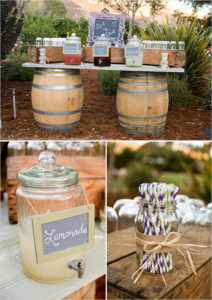 The whole point of a rustic wedding is to have all your decorations be hand made, but if you're thinking about doing it all yourself you might need several years! Pick several, more personal items instead, and the rest you might want to purchase or have someone help you.
Interior decorators recommend mixing some old items with some new ones. Also try some opposite textures to wow your guests. Mix some bright colors with some dull ones. Have smooth with rough and hard with soft. You get the idea.
2. Craft Stores vs. Thrift Store
If you're goal is to save some money, then stay away from the craft store. Why pay retail, when you can not only buy something on a bargain, but also be authentically rustic by visiting your local thrift store. Have fun going on a rustic wedding decoration hunt in your local flea market, garage sales and discount store!
3. Don't go Fake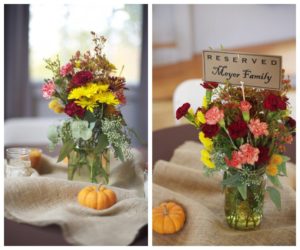 There are so many things you can purchase that look old and but are a fake, but there is one thing you really want it to be real. FLOWERS. Everyone can tell if a flower is fake or not and it will turn your rustic wedding from Chick to Cheap!
Yes a rustic wedding is all about hand made items and rusted looking decorations, but for any means should it not look elegant. So, go for real and not fake when it comes to your wedding flowers.
4. Rust Good, Mold Bad
You will be using a lot of second hand decorations, maybe even third hand so some items might have some rust. But, rust can look very cool and elegant. What wont look cool and elegant is seeing some black, white or green mold on that cool looking chair you got a great deal with on the flea market! Not only is it a bit too much, it can actually be very bad for you, your fiance and your guests health.
5. Don't DIY Catering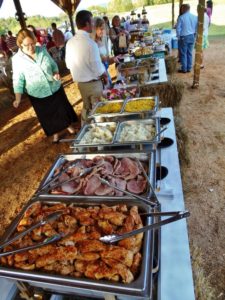 While baking some good old fashion apple pies for your desert table, pulling off an amazing 150 or more guest menu can be challenging and stressful! When it comes to Catering and Photography it's always a great idea to hire professionals. It might sound like a great idea to ask your great aunt, who can cook like there is no tomorrow, to cater your wedding, but there is a big difference cooking for a small family gathering and a wedding.
6. Rustic Does Not Mean Cheap!
Nothing screams cheap more than using paper plates, plastic cups and silverware. There are clever ways to stay on budget and still look great. You can buy used plates from someone who just had their wedding or ask your caterer if they rent them. Sometimes renting them from your caterer can be as cost effective as buying the plastic cups and silverware!
7. Rustic Restrooms?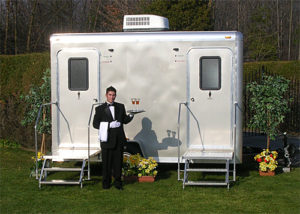 Unless you're going to rent out a deluxe porta suit that comes with a sink and flushing toilet, or come up with a very clever way to dress them up stay away from the porta-potty! Think about your guest, the look… think about the brides dress! Yes, this will be a rustic wedding, but that doesn't mean it has to feel like your camping. Make sure to check for what type of restrooms the venue has.
Rustic Wedding Do's and Don'ts
For more rustic wedding inspiration visit our Elegante Catering Pintrest Board or follow us on Instagram@elegante.catering and give us a like on our Facebook fan page.
If a rustic wedding isn't exactly what you're looking for, maybe having a backyard wedding, beach wedding or having it in a traditional wedding venue can be a better fit for you!
Ready to book us as your caterer? or would like to sample our menu? Request More Info or Call us @ (909) 736-9927