Are you looking for the perfect Wedding Venue?
Selecting the right Caterer and Wedding Venue are one the biggest decisions you'll make as an engaged couple!
Elegante Catering Wedding Venue Services
We want to serve you and help make your day as special as possible, but most importantly make it go as smooth as possible! We want to make sure you pick the right menu that will make your guests say "WOW" but also fit within your budget.
On a Budget?
No matter how big or small your budget, we want to make your wedding spectacular. For smaller weddings and those on tight budgets, we offer a variety of a la carte selections and appetizers that can make any wedding feel spectacular without the price tag of a full service wedding catering menu.
Want the Full Service Wedding Catering Menu?
We offer a variety of catering menus that fit perfectly with any budget. Depending on the layout of the wedding venue and kitchen setup every wedding venue is uniquely designed. Give us a call or email us at contact_us@EleganteCatering.com for details on how we can work with your wedding venue. We would love to be part of your day as your personal caterers!
11 Must Ask Questions To Ask Your Wedding Venue
If you're dreaming of having a beautiful wedding, then picking the perfect wedding venue is essential! This can be a daunting task, but to make it easier on you here are some questions you must ask before making a final decision on your wedding venue.
1. Ask Every Question You Have
You have a particular vision of how you want your wedding to be, and making sure that the wedding venue can accommodate that decision is something you'll want to know before you sign any contracts.
Believe me, there is nothing these venues haven't heard before, so those extravagant ideas might be something they agree to. Some wedding venues will say no, but you will never know if yours would have said yes if you never asked.
2. Ask If They Are Flexible
Some wedding venue caterer as well as independent caterers will have pre-made menus. If you're not 100% convinced about their pre-made menues ask if they are flexible and can accommodate your ideas. This can also work with budgets. If the venue or catering is a bit out of your budget, let them know what your budget is and if they are willing to work with it.
3. Ask about the Caterer
You will want to ask if they have their own in-house caterer or a list of "preferred" caterers or will you need to provide your own? You might already have a preferred caterer you want to work with. So a great question to ask, if they have an in-house caterer, is if you can use your preferred caterer or are you forced to use theirs?
4. Ask About their Kitchen Space
If you're planning to hire your own caterer and the wedding venue has a kitchen available, don't assume that they will allow you or your caterer to use it. Always ask if you will be able to use the kitchen. Make sure you are specific too, sometimes they will only let you use their kitchen for prepping food, but not to cook.
Here's a note: Some caterers will charge extra for hauling their own equipment like stoves, and refrigerators to a job site.
5. Ask bout tables, lines, chairs, silverware and glassware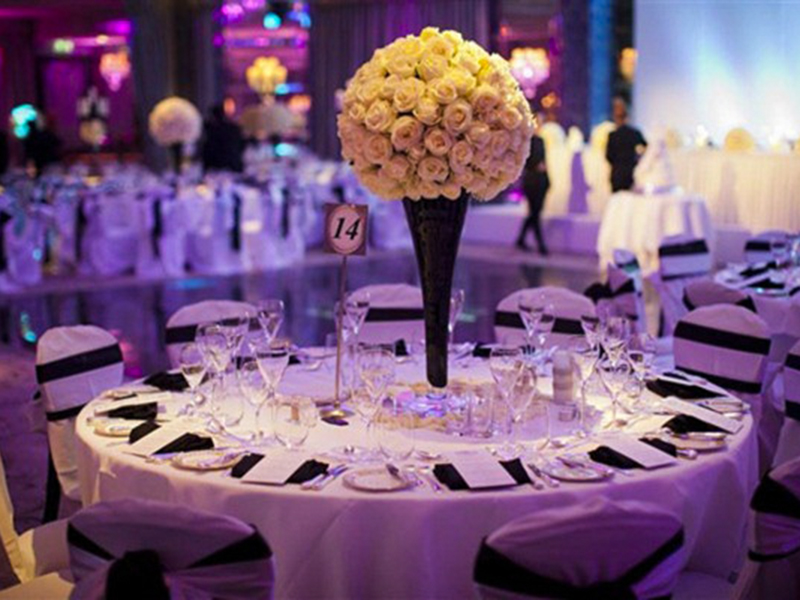 Some wedding venues might offer everything, others just tables and chairs then yet others will not offer anything and you will have to find your own rental companies.
Here's a tip: If all or part of the rentals are not provided ask your caterer. Caterers usually would have this as part of their service or have develop relationships with rental companies.
6. Ask If You Can Bring Your Own Alcohol
Take in to consideration that in some states taking your own alcohol is against the law and your wedding venue/caterer will say no.
But in many states this is OK (as long as you have licensed server). Being able to buy your own beer and wine can be WAY cheaper. Plus you can buy exactly what you and your guest like. Most likely this option will not be advertised, so it will be something you will have to ask.
7. Ask When Can You Decorate
There are a lot of venues that book an event per day, yet there are others that book one per weekend. Being able to go in an decorate the day before can save you a lot of stress you would otherwise have the day of your wedding.
Also ask what you can decorate and what you can't. There are wedding venues that are very strict, and others that will let you do almost anything.
8. Ask about price and discounts
Of course you will ask what the price is, but here are two extra follow up questions you should also ask. Ask about what's included in the price they just offered you. Ask if there is a discount for booking off-season or Sunday through Friday. These discounts will not be advertise, most likely, so you will want to ask.
Something else you will want to ask is how much is the deposit and is it refundable. You never know when something unexpected happens or you just find another venue that fits your needs better! Here's a Tip: If you're on a budget, ask if they have a payment plan.
9. Ask about security
Make sure to ask about security and if that is something they provide or will you have to hire your own security guards.
Here's a tip: Some good guidelines to follow are for 100 guest you should have 2 security guards and 1 for every 100 guests after that.
10. Ask about liability insurance
If someone gets hurt during your wedding you don't want to be held responsible! Ask if the site already has insurance and what does that cover and if not then you will want to get your own.
11. Ask about the end of night cleaning
Make sure you ask about their policies when it comes to cleaning. Is that a service they provide or are you responsible to leave the wedding venue clean and in the same shape it was.
Here's a tip: Make sure you walk around the venue and check for anything out of the ordinary. If you do find something, like cracks or something that's dirty take a picture and then let the venue know. You won't want to be help responsible for something that was already there.
For more wedding venue inspiration visit our Elegante Catering Pintrest Board or follow us on Instagram@elegante.catering and give us a like on our Facebook fan page.
If a venue isn't exactly what you're looking for, maybe having a backyard wedding can be a better fit for you!
Ready to book us as your caterer? or would like to sample our menu? Request More Info or Call us @ (909) 736-9927
Write a comment below and let us know what you thought about our Wedding Venue article