Looking for the Italian Pasta Bar Catering Menu? Discover below how Elegante Catering will have your guests raving about your event!
**For an additional charge, you may substitute any meat for shrimp or add it.**
To request a quote, Book us, Set a Tasting appointment or Just ask any question of our Italian Pasta Bar Catering Menu Call (909) 559-1561

From weddings, bridal showers, birthdays to corporate events this menu is perfect for any type of event.
Guests will have the opportunity to choose their favorite plates! By having the choice of 2 types of pasta, marinara sauce, Alfredo sauce, grill chicken, Italian sausage, and meatballs everyone will receive their favorite dish.
It's no wonder why everyone is raving about Elegante Catering, just take a look at what Daniela had to say about her bridal shower pasta buffet…
Read Daniela T.'s review of Elegante Catering on Yelp
"Excellent all the way! Nestor is a true professional! We used the pasta bar catering at our home for our Christmas party, and our guests loved it! All the food was fantastic. I will be using them again, and I'm pretty sure so will my guests!"

~ Jennifer D.
Your guests will be wowed by the vast assortment of choices they'll have to fill their appetite!
We are able and willing to cater to events as small as 50 guests and upwards of 300+. Our friendly chefs and staff will make sure everything runs on time, tastes amazing and all your catering needs are met.
Apart from receiving a unique pasta plate guests will receive a side of fresh romaine green salad and dinner roll. Plus, that's not all, right after that they will be able to make their dinner even more unique as they choose from the topping station…
Parmesan cheese, black olives, red crush peppers, pepperoncini's, diced tomatoes, parsley, black pepper, Himalayan pink salt, individual warped butter, ranch dressing, balsamic vinaigrette, Caesar dressing, and Italian dressing!!
You're guests will be amazed and will praise you for having booked Elegante Catering's Pasta Bar.
Let us Cater Your Next Event!
(909) 559-1561
Take a look at what Joanne H. had to say about our Pasta Bar Catering Services…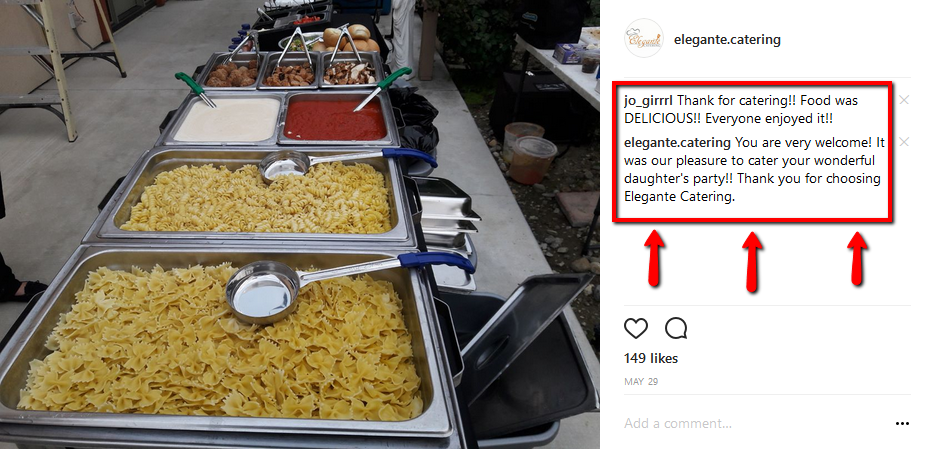 Here's a quick peek at the layout you'll receive when you decide to book us for your next event…
Click here to Receive a Quote on our Pasta Bar Catering Menu
or call (909) 559-1561 for a quicker response.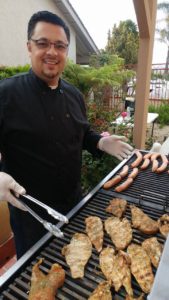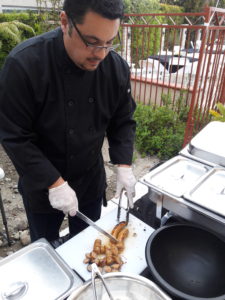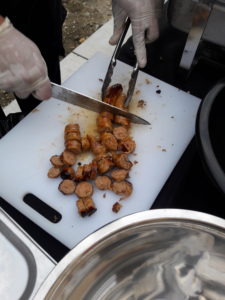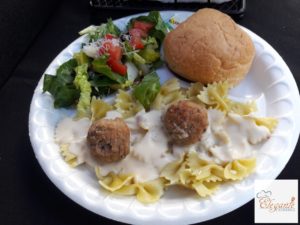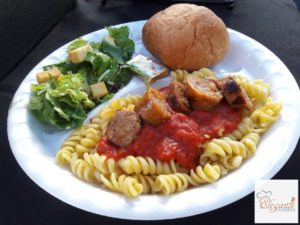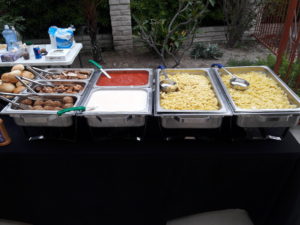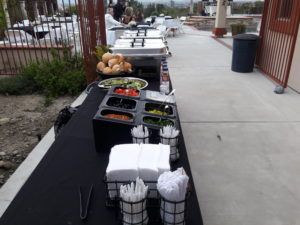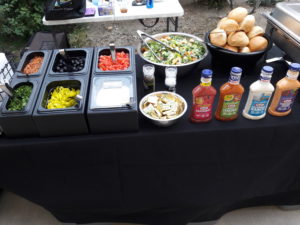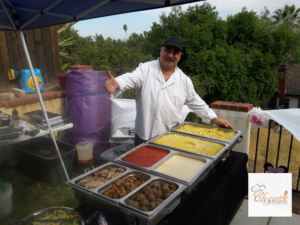 Pasta Bar Catering Menu