Seated Plated Meal Menu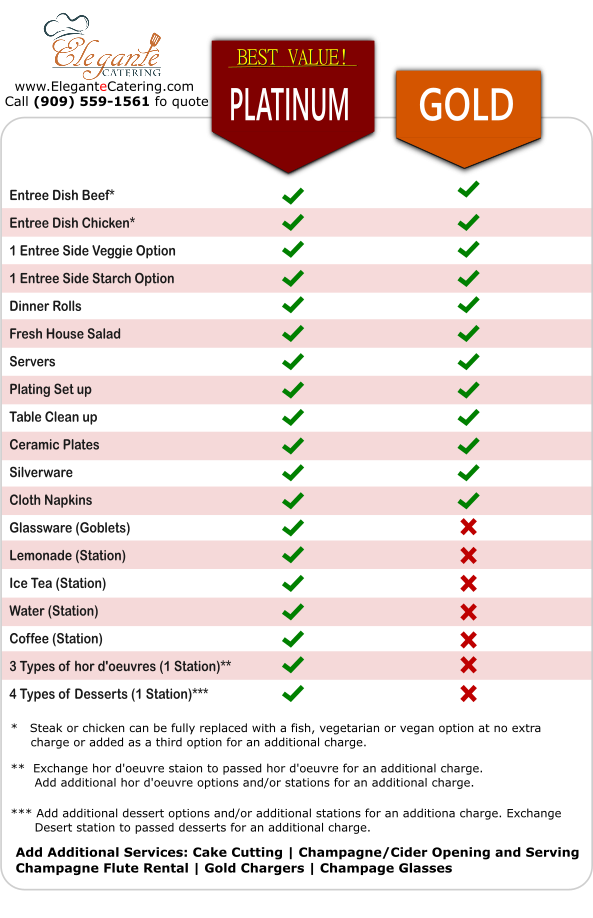 Below is a sample of the most popular seated served Entrée menu format we provide here at Elegante Catering winner of the knot's 2021 best of weddings!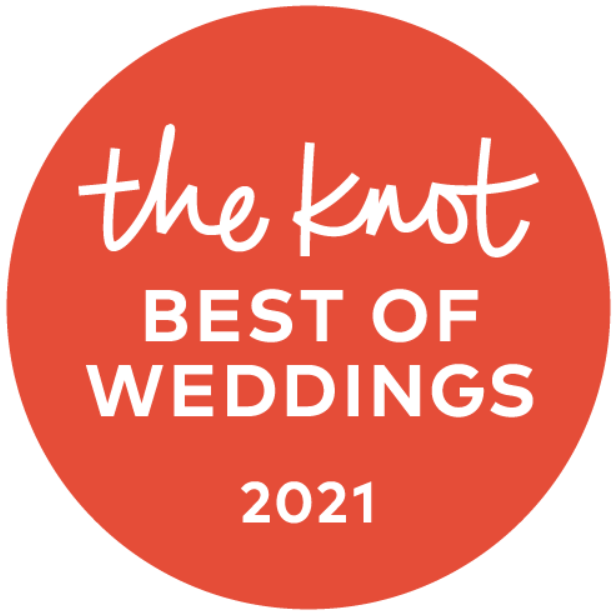 The Platinum Package.
Of course, this is a recommendation. Feel free to let us know what YOU would like, and we will do our best to make your event go exactly how you're envisioning it!
The bottom time frame is based on efficiency and ease for your guests.
If you would like a guided tour of this menu, call us and one of our professional catering coordinators will be happy to guide you through the process below.
(909) 559-1561 or email us at contact_us@elegantecatering.com

PLATINUM PACKAGE
Hors D'Oeuvres (Station)
We will keep your guests happy while you and your fiancé take pictures right after the ceremony. An hors d'oeuvres station will be set in the reception area for one hour. Your guests will have the choice of 3 different types of our delicious Hors d'Oeuvres, with an average of 2 to 3 per guest.
You may also upgrade to the Passed hors d'oeuvres.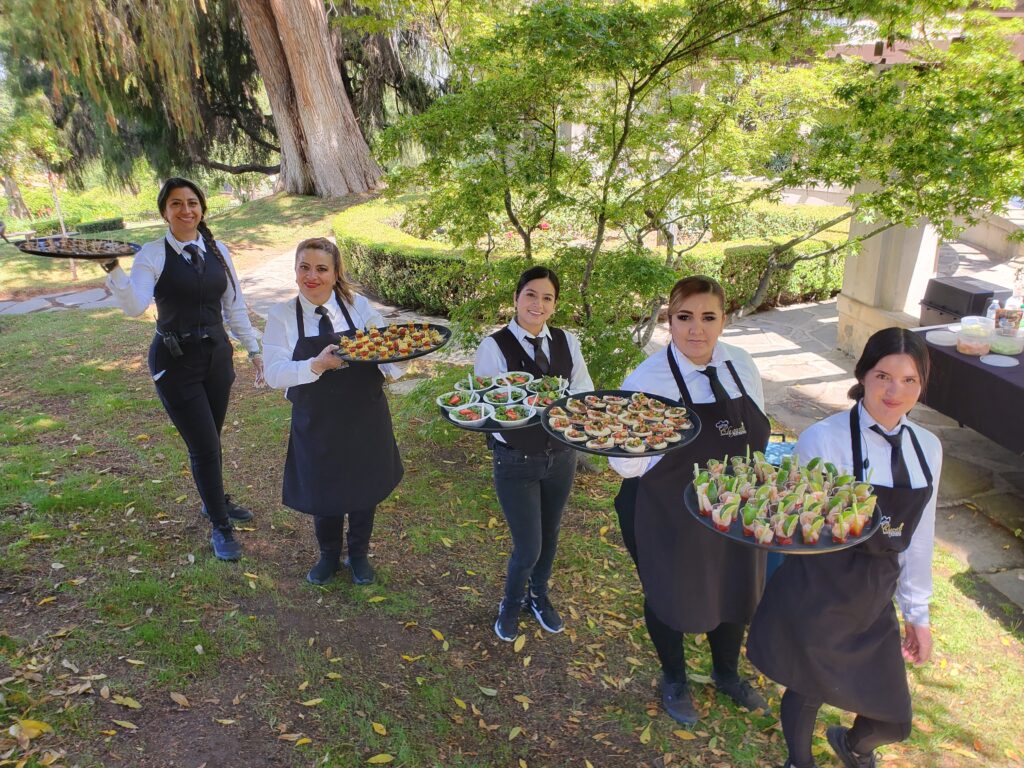 This upgrade will grant you an hour of your guests' mingling and catching up with each other as our professional servers walk around with trays full of delicious appetizers!
The option of having a combination of passed and station hors d'oeuvres is available.
Click here for a list of Hors D' Oeuvres you may choose from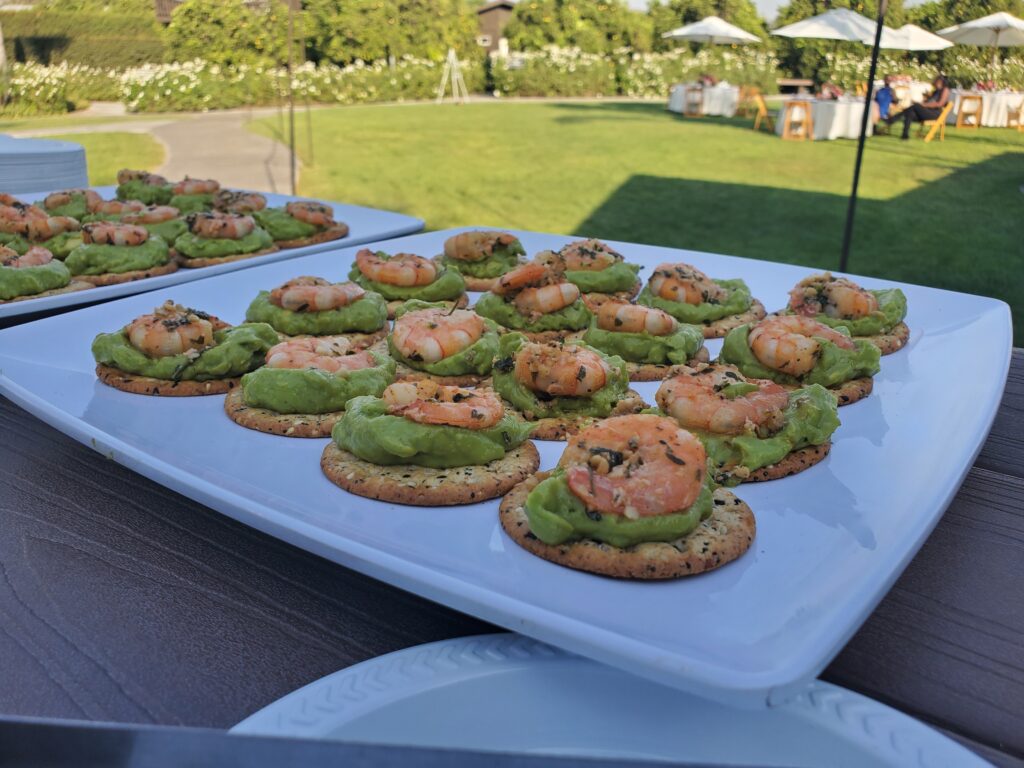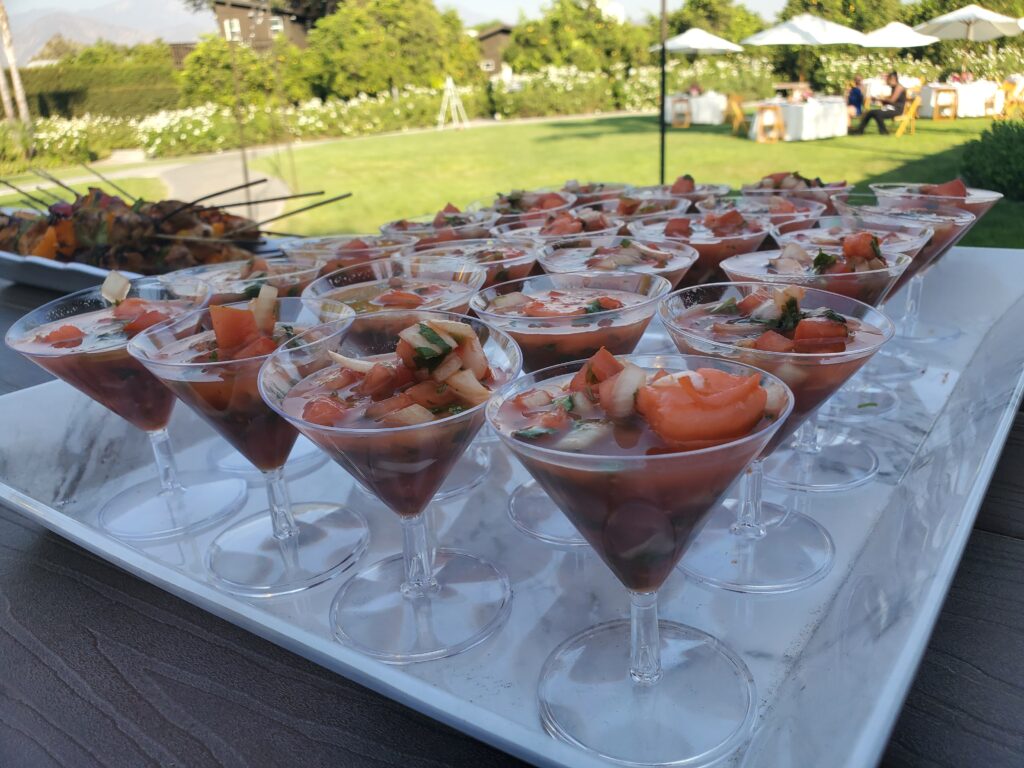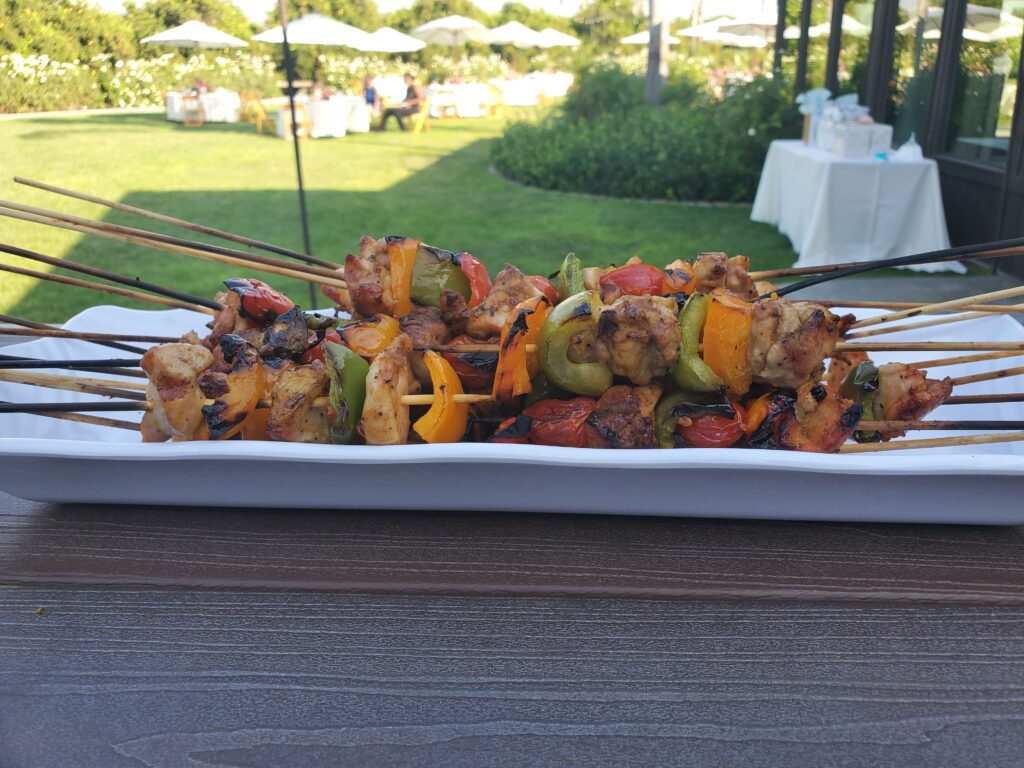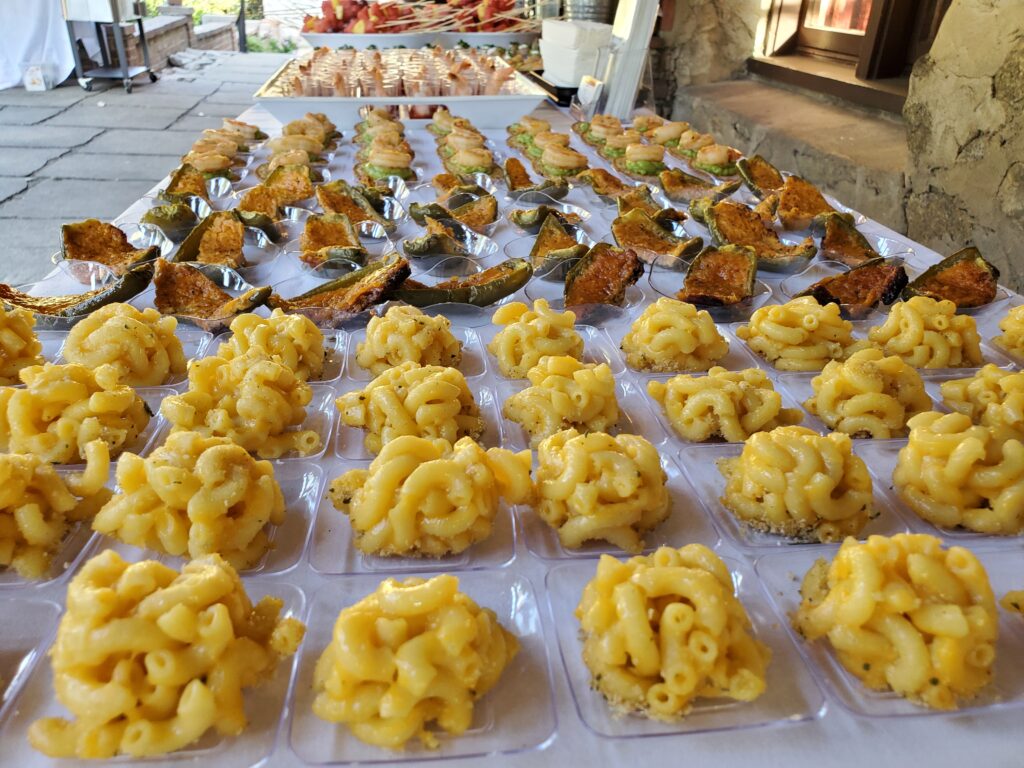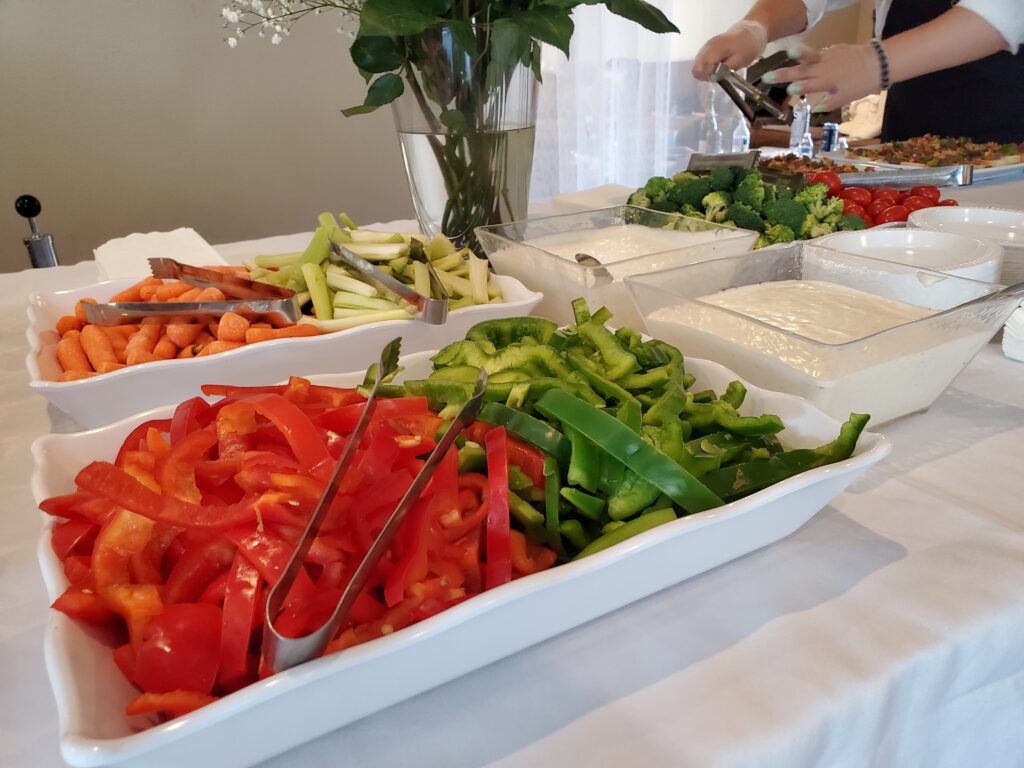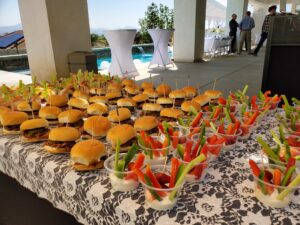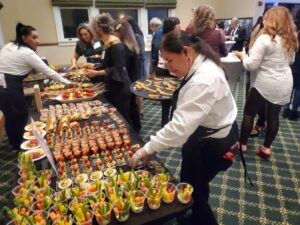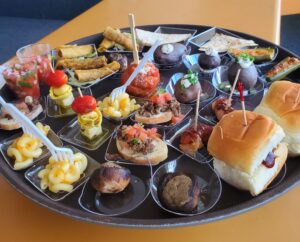 Beverages and Coffee Station

We will make sure your guests are never thirsty!
A lemonade, iced tea, and coffee station will be set up and ready to go by the start of the hors d'oeuvres hour and will stay until our service comes to an end. Guests will be welcome to approach the station and serve themselves at any time.
Once your guests are seated and dinner is being served our friendly staff will be serving and refilling your guest's water throughout dinner.
Salad
Dinner will start with the Chef personally serving the couple salad. This will ensure that the newlyweds get to eat! Right after Chef will signal the servers to start serving all guests. 
We will have 1 server for every 20 guests.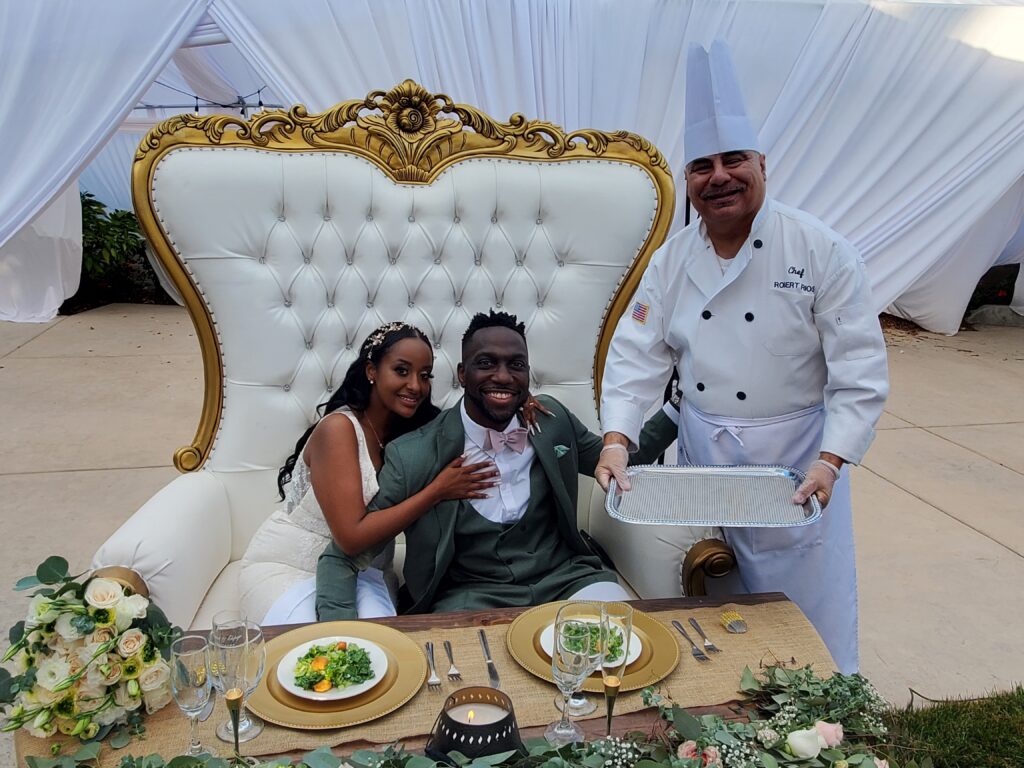 Click here for a list of salads you may choose from
Main Entree
Our executive chef and staff will cook and plate, for your guests, a three-item meal. Each plate will consist of a Protein, Veggie Side and a Starch.
You will be able to provide your guests, ahead of time, with their choice of a Beef or Chicken option. A vegetarian or Vegan option may be added to the meal plan for an additional charge.
Click here to see a list of our Elegante Entrees you may choose from
Desserts

Besides your amazing cake (not provided by Elegante Catering) your guests will be able to indulge themselves in 4 different types of desserts! A dessert station will be set up and ready for your guests to help themselves right after the dinner hour.
Click here to see a list of our Desserts you may choose from
This has been one of our most popular and effective ways of structuring a wedding dinner. This provides the newlyweds and their guests a fantastic and romantic memory of the wedding dinner!
If you like to speak to one of our catering coordinators, please call (909) 559-1561 to have all your questions answer and receive a quick quote.
You may also decide to fill out the Online "Receive a Quote" Form when you CLICK HERE and one of our catering coordinators will contact you as soon as possible.
(NOTE: Friday through Sunday we are usually creating wedding dinner magic, and a delay in contacting you may occur.)
We're here to help you create long lasting delicious memories!