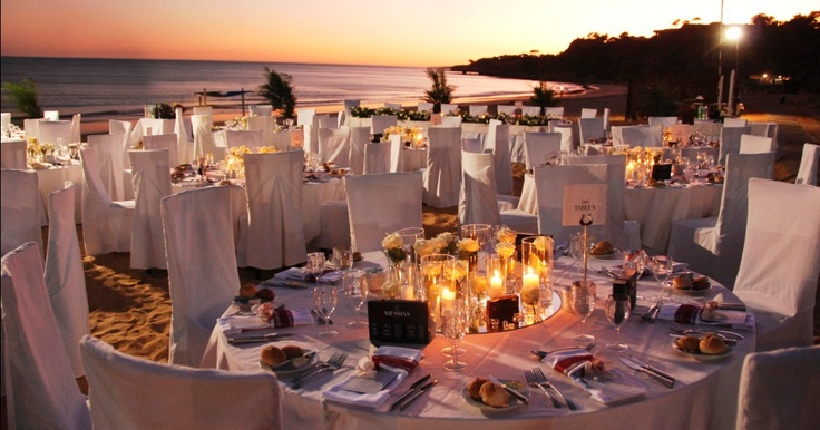 Is your imagination taking you to a beautiful beach wedding?
You see them in the movies and now it's your turn to have that perfect beach wedding. The beach can be an amazing place for your wedding, but remember that you are dealing with mother nature. Let us share with you some of tips that can guide you to make this day fun and memorable.
Elegante Catering Beach Wedding Services
We are here to help you, in any way possible, to make your day a memorable one! We understand that you have a vision of what this day will look like and we would love to be a part of it and help you make your dream beach wedding come true.
With our 14 plus years experience, we've done our share of weddings, and we use that expertise to guide our clients to make sure that everything goes as planned.
Catering Made Simple
We want to accommodate any type and size wedding as well as the budget.
On a Budget?
No matter how big or small your budget, we want to make your beach wedding spectacular. For smaller weddings and those on tight budgets, we offer a variety of a la carte selections and appetizers that can make any wedding feel spectacular without the price tag of a full service wedding catering menu.
Want the Full Service Wedding Catering Menu?
We offer a variety of catering menus that fit perfectly with any beach wedding. Depending on the layout of the beach, kitchen setup, electrical access points, use of a tent, weather, terrain and other on foreseen elements, every beach wedding is uniquely designed. Give us a call or email us at [email protected] for details.
12 Things To Consider If You're Planning On Having a Beach Wedding
1. Hire a Wedding Planner
You might be thinking that having a beach wedding will be a breeze, we recommend hiring a wedding planner to handle the unforeseen arrangements of having your wedding on the beach. Things like getting the appropriate permits, making sure the beach is clear of sunbathers to the logistics of where will everyone park! A wedding planner can help calm your nerves and make sure you a have a Picturesque type of Beach Wedding.
2. Time of the Year
With any outside wedding, being a backyard wedding or a beach wedding, the time of the year you decide to have it can be a blessing or a disaster. Finding out how the weather will be ahead of time will make sure you have an amazing time. Ask you wedding planner or ask about the local conditions on the month you're planning you wedding.
3. Time of the Day
The afternoon sun might not affect you but think about your guest. Depending on how long your ceremony is and how much shade you provide, your guest and you might be taking a nice sun bath. Suggesting sunblock lotion and having some summer umbrellas for shade can help everyone have a memorable and fun day. Your beach site most likely faces west, so your guests will be gazing into the sun as it sets. Make sure everyone knows to bring sunglasses, hats, visors, you don't want them squinting at you the entire time!
On the flip side it can get a bit chilly, Remind your guests to bring appropriate clothing. It's not a bad plan to have sweaters, shawls, sweatshirts or even blankets on hand for those who might have forgotten.
4. Let The Food Set The Mood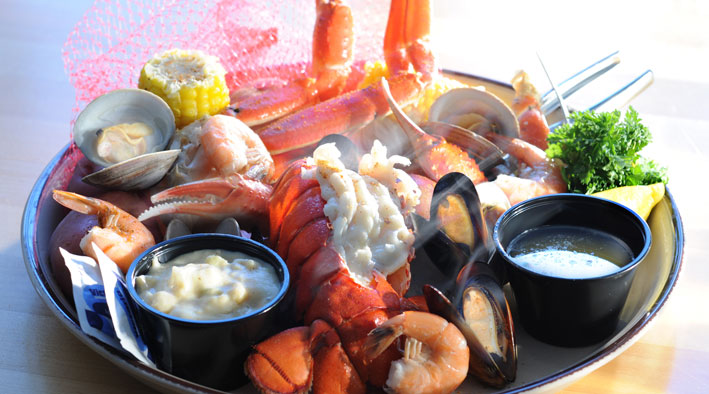 Being that you are having a beach theme wedding, make your food match the theme. We recommend you reflect and Incorporate foods and customs of the area. having a Hawaii beach wedding will be quite different from a seaside ceremony in the South of France, and your menu should reflect that.
Have fun with this and ask your caterer what they recommend and what they offer that can match the local cuisine. Also Plan ahead with your caterer about the time of day. Food can both be very delicate to the cold or heat.
Remember that your food your caterer will be serving are essential to your beach wedding decorations!
5. Private or Public Beach
If you're planning to have your beach wedding here in the United States, basically all beaches are public. If you're planning on having a small wedding with fifty or fewer guest, you might be able to find a private property on a secluded beach with owners who are comfortable hosting events in their space and get pretty close to private.
If that is something you want, you will want to start your search as early as possible to have a chance of finding one of these hidden diamonds.
6. Ceremony or Reception or BOTH
Before you start to searching for anything you will want to decide on what you want. There is a BIG difference between having a beautiful ceremony and then everyone heading out to a more traditional wedding venue. Or having a full blown beach ceremony and reception right on the beach.
The permits and ordinances will very depending on what you're planning on having. Are you having food and drinks? Are you wanting to rope off a section of the beach? All these questions must be address before had, so that you can plan and ask.
7. Photos and Video
The beach can be create some tricky lighting so make sure to hire a photographer and videographer that are experienced and have done beach weddings before. Let loose and take advantage of all the natural beauty that'll be around you.
The waves crashing in the distance, a sunset backdrop beside the water's edge can make for a perfect wedding day memory!
8. Beach Wedding Permits and Ordinances
"Do I need a permit?" That will be the question that you most likely be asking yourself. Beach rules will very from city to city, so make sure you check with the local government to know what permits you will need. Here are some great questions to ask yourself and then check the local rules…
Are you planning on having a small guest list or large? The bigger the guest list the more likely you will need to follow some sort of rules and regulations and will probably need a permit.
Will you want some privacy? Making this a NO will make things much simpler, but ask about what type of options do you have. Can you have tents, or maybe you will want to rope off a section of the beach.
Will there be Alcohol… outside on the beach? Most beaches prohibit the consumption of alcoholic beverages. You will want to find out what the rules are if alcohol will be serve.
Are you planning on having any dangerous activities, like bonfires or fire dancers? There are beaches that prohibit these activities, but then there are others where you just need a permit.
Make a list of what you're planning on having or at least what you would love to have and then visit the beaches local government and ask away.
9. Sound System
Waves and wind can be loud, so plan for a way for all of your guests to be able to listen. Using a sound system and microphones will help you amplify does prefect vows you'll be telling each other!
But, remember that beaches are not normally equipped with electrical outlets so plan on taking a generator. Plan all this ahead, because you will end up shouting to be heard!
10. Accessibility
It is a wonderful dream to be standing there with the one you love, sinking your toes in the white warm sand, but what about your wheelchair-bound Grandma? Will your guest be standing or will you have chairs for them? How far will the walk be from the parking lot to the ceremony?
The beach can add to the layers of difficulties an outdoor weeding already brings, so make sure to consider your guest list and prepare for any additional accommodations that will be needed. You want to make sure everyone has a great time and will remember your day as magical as you will!
11. Have a Backup Plan
The last thing in your mind is having to scrap your beautiful beach wedding, but mother nature can sometimes be a bit harsh. Having a contingency plan already in place can keep things running smooth and magical!
Of course we always recommend you rent a tent whenever you're doing an outdoor event, but because you will be at the beach making arrangements in advance with a nearby hotel or hall can be a something you might want to consider.
For more beach wedding inspiration visit our Elegante Catering Pintrest Board or follow us on Instagram@elegante.catering and give us a like on our Facebook fan page.
If a beach wedding isn't exactly what you're looking for, maybe having a backyard wedding, or having it in a traditional wedding venue can be a better fit for you!
Ready to book us as your caterer? or would like to sample our menu? Request More Info or Call us @ (909) 736-9927
Write a comment below and let us know what you thought about our Beach Wedding article