Discover 3 amazing Christmas Party Catering menu choices that are guarantee to make your employees rave about your event!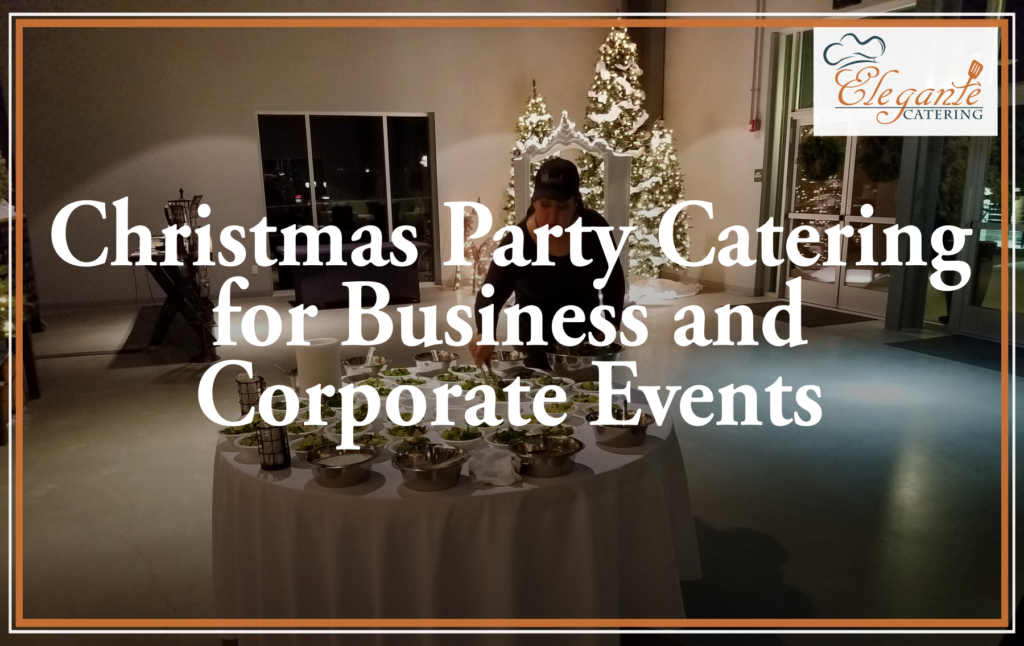 But first, I would like to say, I fully understand that choosing the right menu for your event can be a daunting task.
So, today I narrowed it down to 3 of the best choices that will make your decision fast and pain free and here's why…
Any of the menu choices you decide to go with are designed with these in mind:
To make your employees feel special and amazed by the food and layout.
To be delicious, memorable and fill your employee's bellies to the rim.
To take just 5 to 10 minutes to place and book your entire event!!
Christmas Party Catering for Business and Private Events can Be Rewarding and Memorable When You Choose the Right Menu!
Let your employees know you care and appreciate them by gifting them a hot catered meal!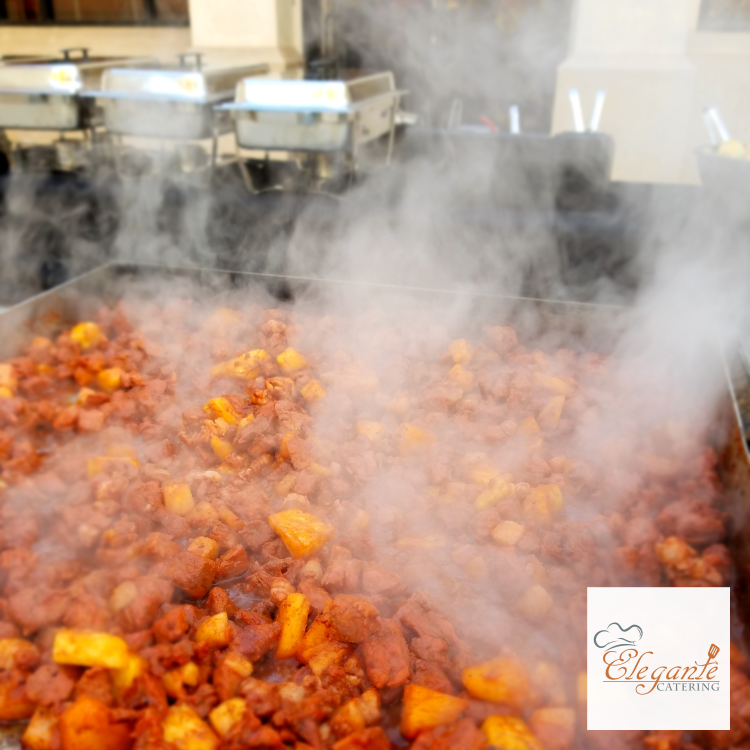 There is nothing better than sitting around the meal table breaking bread and building stronger bonds with the people you work with everyday.
With these 3 different packages, like the famous Taco Bar, the delicious Fajita Bar or when you have them make their own pasta plate with the amazing Pasta Bar, your employees will know you truly care about them!
We know that you have many choices when it comes to caterers, but when you make a decision to hire Elegante Catering for your event, you can rest assure that your employees will rave about how awesome it is to work for you!
We are your one stop Caterer of choice, because we understand that companies, like yours, want to be providing your employees, not only with the best tasting menus, but with different types of menus each time you have an event…
and that's where we shine!
We have and are continuing to put together different menu choices, so that you wont have to be stuck ordering the same type of food over and over.
or having to find a different catering company every time you want to change menus, starting the research process all over again!
Once you hire us for your event you will be in our system and the process of re-hiring us will be even faster!
It will be as simple as you just sending us a text or calling in at (909) 559-1561…
letting us know how many guests you will have and what menu you would like!
Once the deposit is provided you are all set and ready to move on to more important business tasks.
The first time you make a decision to hire Elegatne Catering for your event, that will be the only time that it takes about 10 to 20 minutes.
Even then we try to make it as fast, simple and pain free as possible.
We understand that you are busy and that finding the right menu and caterer is not one of your highest priorities on your to do list.
Yet, what it is on your highest priorities is making sure that your employees are taken care of and made to feel special and as important as you feel they are!
Give us a call (909) 559-1561 and speak to a catering expert about your next Christmas party catering event or regular event and the different menus we can provide for your employees.
Taco Bar Catering Menu #1
Something that will never go out of style is the famous Taco Man!
Everyone loves tacos and that includes your entire team of employees.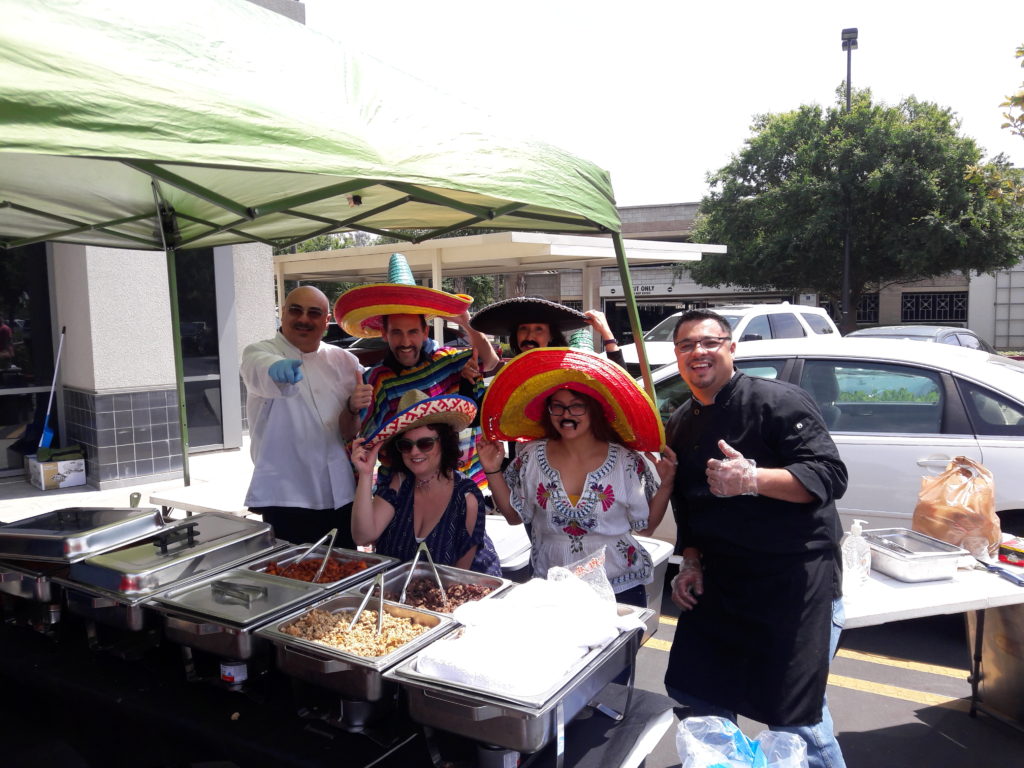 Elegante Catering is so dedicated to bringing you the best Christmas party catering, that we don't just provide you with any taco man, we bring you The Taco Specialist!
Our taco specialists have been fully trained and food handler certified to provide your employees with the best tasting tacos.

If you are interested and are currently in the process of finding a taco man here are 7 questions you should ask before hiring a taco man and of course we encourage you to ask them when you give us a call (909) 559-1561
If you want a more details, look at what our Taco Specialist provides, check out our Taco Bar Catering Menu.
Ready to book the Taco Bar? Call (909) 559-1561
---
Fajita Bar Catering Menu #2
If you want to stick with a Mexican theme menu for your Christmas party catering, but you don't want tacos, then Fajitas is an excellent choice for your event!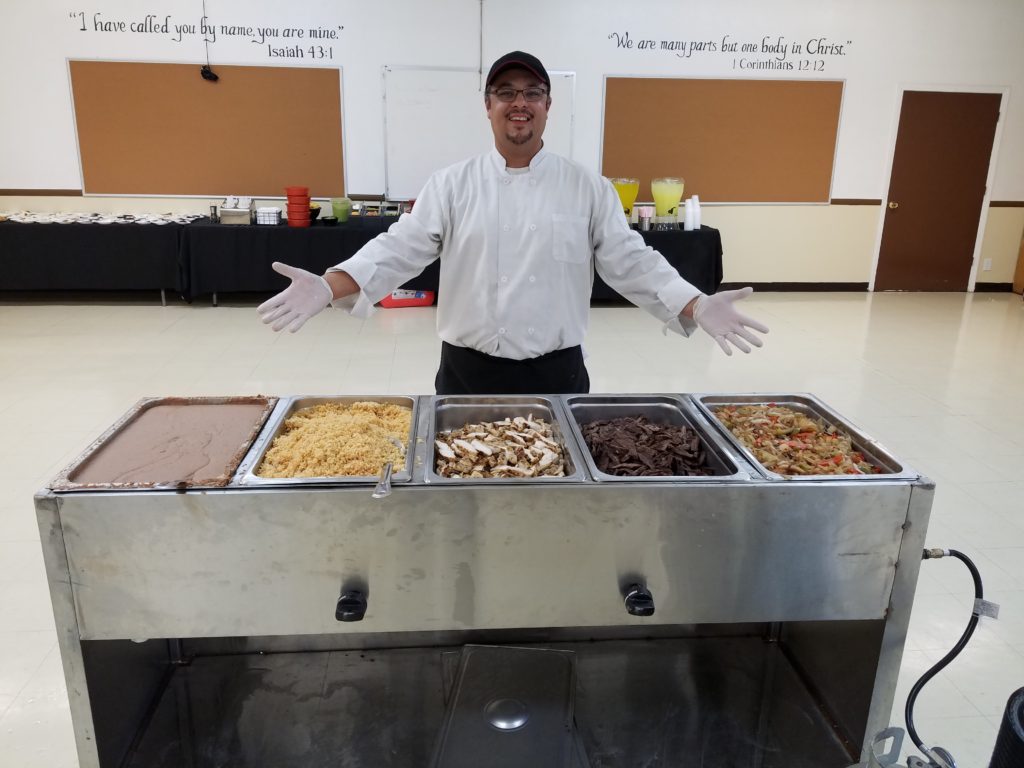 Giving your employees a Fajita Bar is a sure way to get them all excited.
The traditional fajita plate will come with your choice of chicken or steak or both, plus some delicious caramelized grilled veggies.

If you decide to book with Elegante Catering we'll make sure to make your employees feel special.
Our Fajita Bar Menu includes a semi-server service, wow try saying that 3 time! Haha
What this means is that we go around each table an place tortilla warmers so that your employees can have fresh warm flour or corn tortillas right at their tables.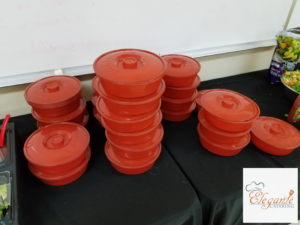 Plus, because we have to go an refill or pick up the tortilla warmers we'll also buss the tables by picking up any dirty dishs. This gives you a server feel without the high cost of paying for servers.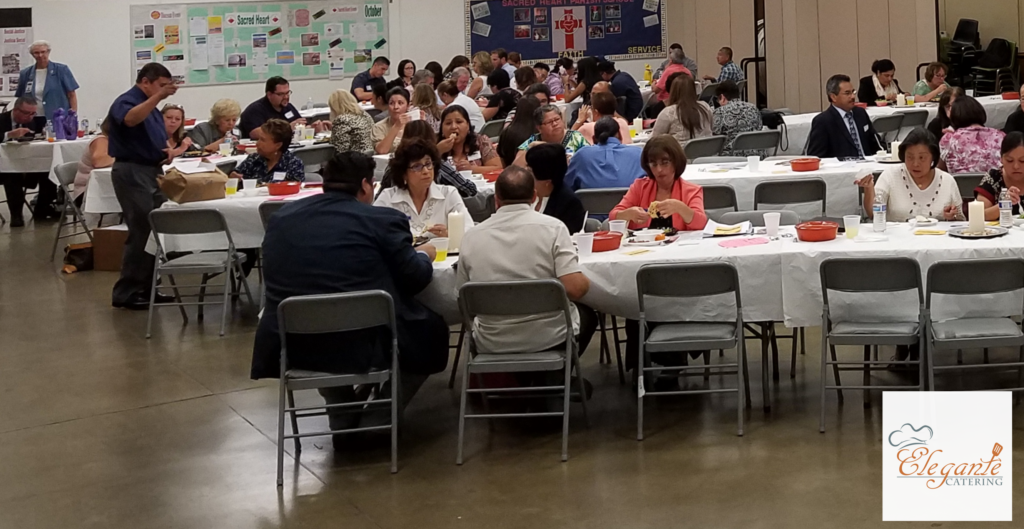 This is our way to give more so that you and your employees feel appreciated!
If you want to discover more about our Fajita Bar Menu click here.
Ready to book the Fajita Bar? Call (909) 559-1561
---
Pasta Bar Catering Menu #3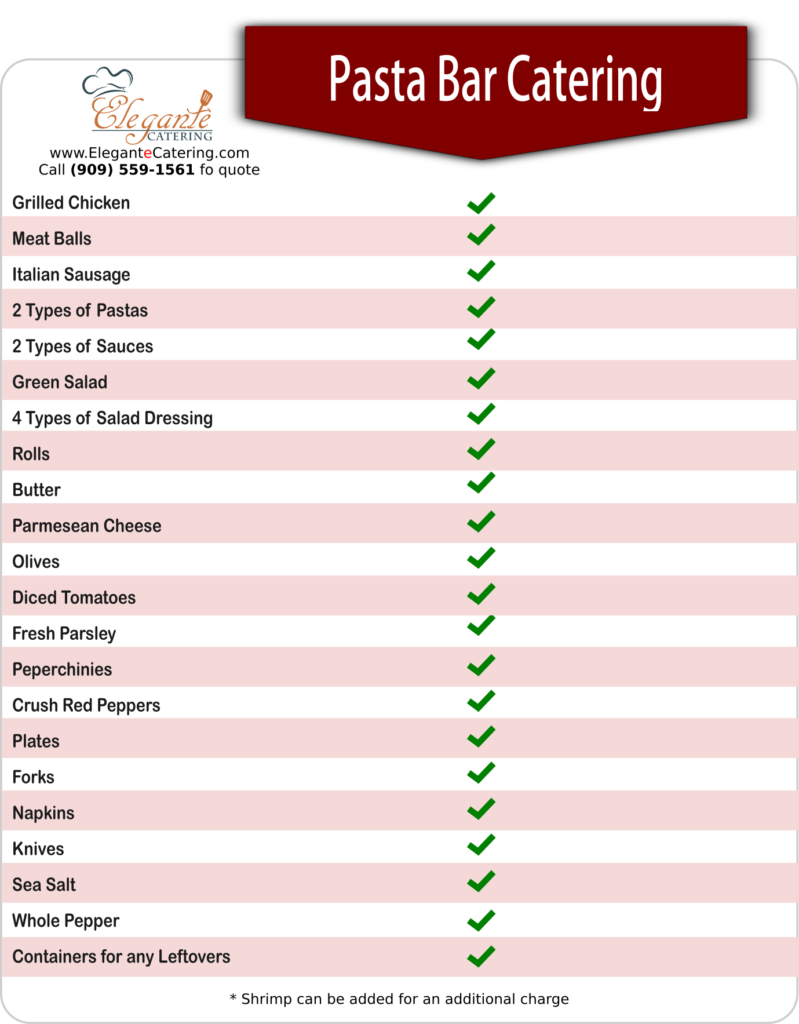 The Pasta Bar Menu is a great way to provide your employees with something delicious YET different!
Here's how it works…
Employees will line up and they will be able to create their favorite pasta plate, by letting our Pasta Chef know what they want!
Our Pasta Chef will give then a choice of two types of pasta. Then they'll choose from Marinara sauce, Alfredo sauce or both!
Once that's taken care of, they will have the option of adding Grilled Chicken, Italian Sausage, Meat Balls or all Three!!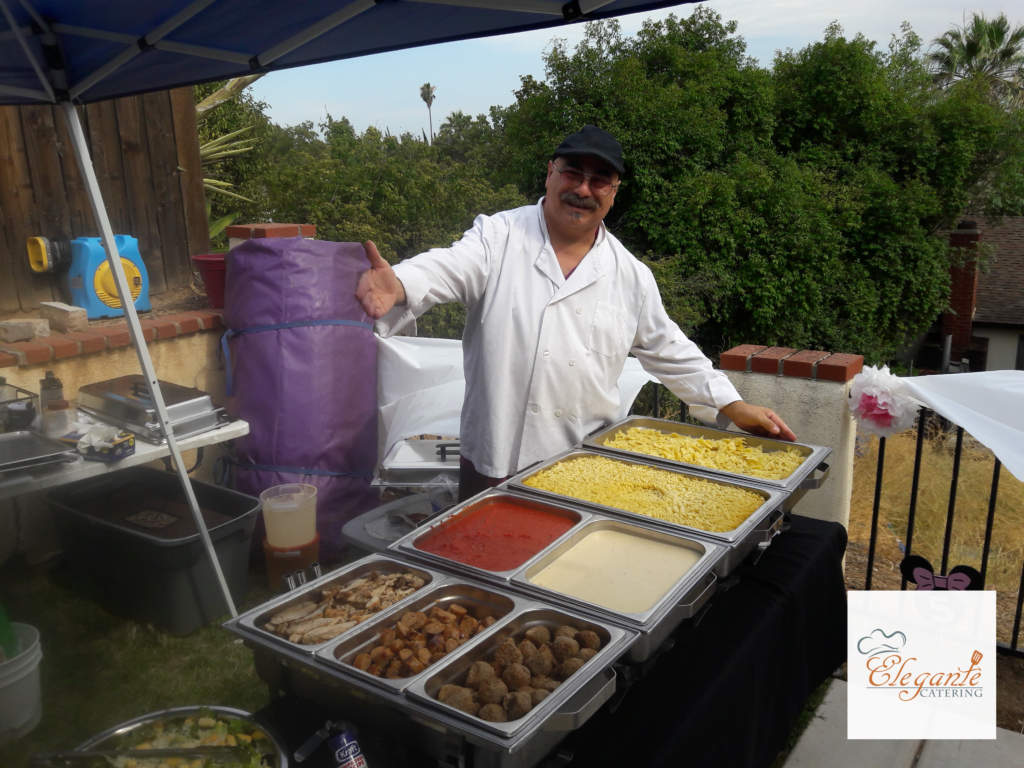 We're not done yet!
Once done with their pasta plate they will be able to add Salad and a Dinner roll.
WOW! Well the chef's part is done, now your employees will visit the topping station where they will have n array of choices…
Four types of salad dressing, individual warped butter, Parmesan cheese, tomatoes, black olives, peppercinis, red crush peppers, fresh parsley, crushed black pepper and Himalayan pink salt!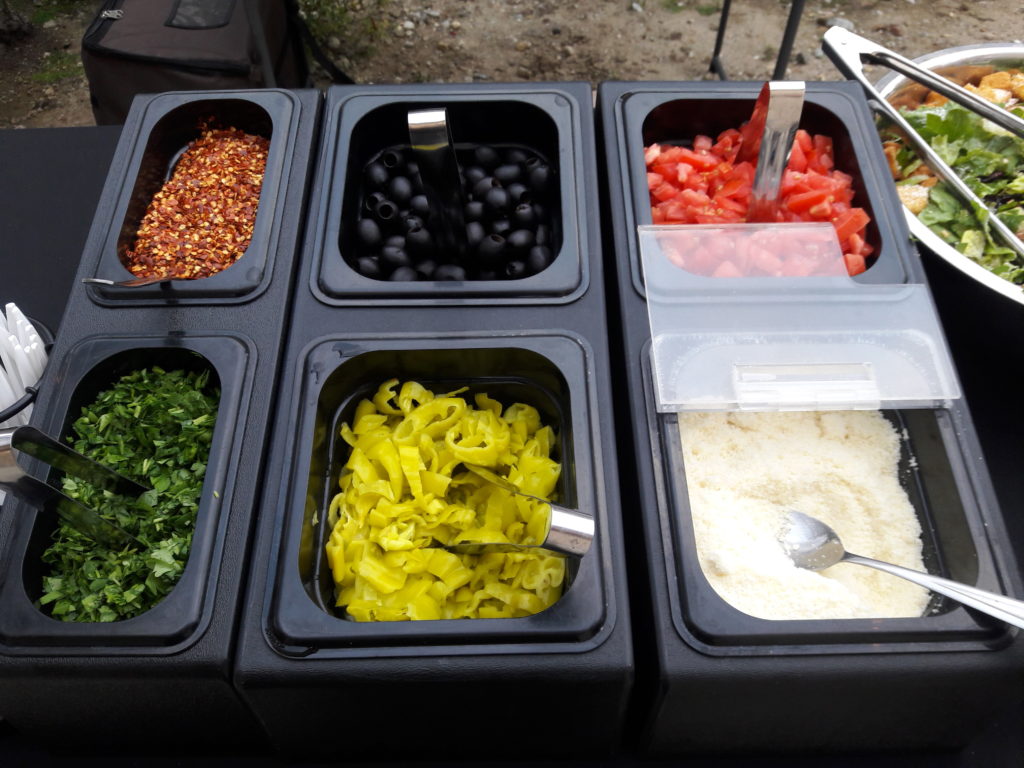 If you want to discover more about our Pasta Bar Menu Click Here.
Ready to book the Pasta Bar? Call (909) 559-1561