The Taco Specialist Takes His Taco Man Catering Services to Victorville CA
Do you live near or in Victorville and want a taco man catering?
Then you're in the right place. As you keep reading this article you'll discover why here at Elegante Catering we not only provide you with a taco man, we send you our specialist… "The Taco Specialist"
Here are some catering recommendations from nearby neighbors


As you can see, neighbors all over, are recommending our taco cart catering services! Our mission is to provide you and your guests with such amazing food and service, you will want to tell everyone.
The Taco Specialist provides you with 3 Different Menu Packages you may choose from. These packages are designed to fit any budget and make sure you always get exactly what you want for your event.
Getting a free quote or setting an appointment for a tasting is simple, just call (909) 559-1561 and Nestor will make sure you're taken care off.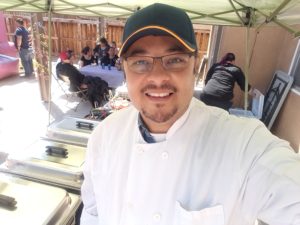 Perfect weather in Victorville ca for some taco catering!
Even dough we have catered, in all types of weather, there is nothing better than having tacos in a nice perfect temperature sunny day!
The guests started to arrive on time and heading to their favorite place to sit and relax while The Taco Specialist filled the air with the aroma of Carne Asada (steak), Pollo Asado (chicken) and…
Al Pastor (marinated pork)!
The Taco Specialist cooked the Al Pastor pork to perfection, with an Adobo marinade and real fresh pineapple!
Even when you've never tasted it, we now it will be your favorite!
If you are wondering what in the world is Adobo, let me explain. The term adobo is derived from the Spanish word adobar, meaning marinade. Mexicans use it as a sauce, with an intense flavor and red color due to the paprika and chipotle chiles that have been stewed in to create the basic adobo marinade mixture.
Are you ready to get served?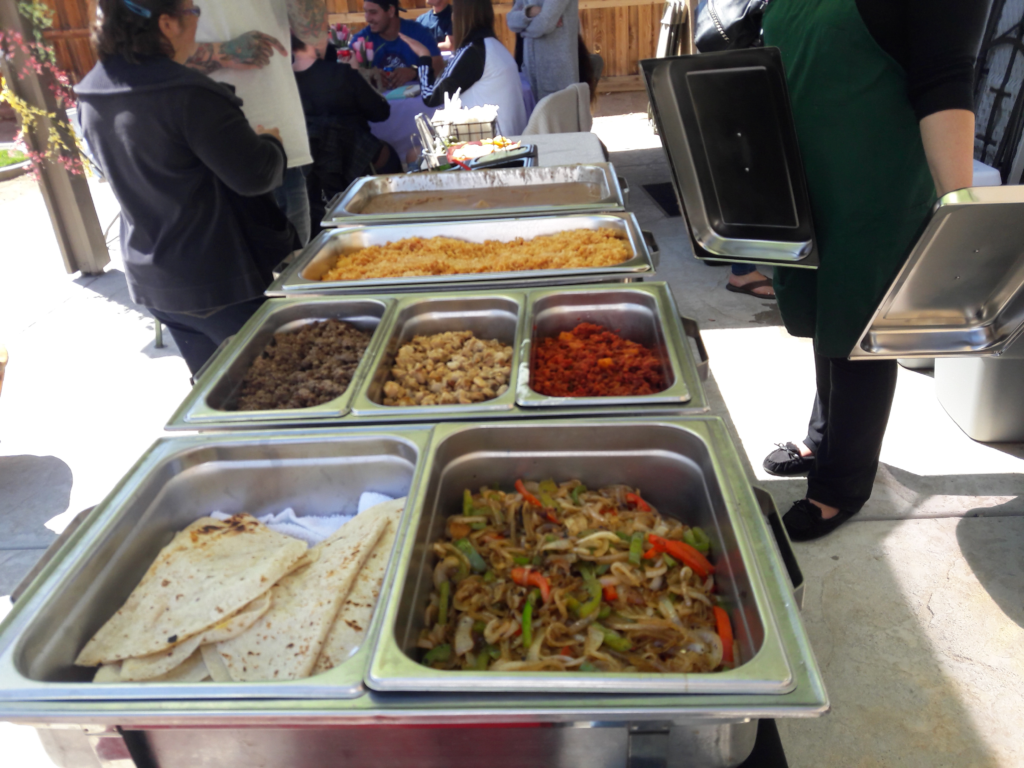 It takes "The Taco Specialist" about 1 hour and a half to set up and cook everything, this provides guests with enough time to arrive before he starts to serve. For this Victorville ca taco cart catering service the client made a great decision by selecting our Medium Package.
The kids were happy to get quesadillas and the grownups tacos with savory and caramelized grilled veggies on top of their choice of meat tacos!
Rice and beans were served with a wide variety of sides. There were chips, cheese, deep fried jalapenos, red & green salsa, onions, cilantro, radishes and limes… oh my!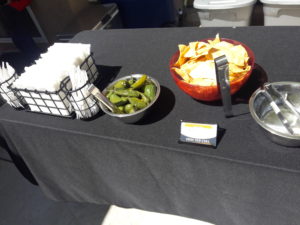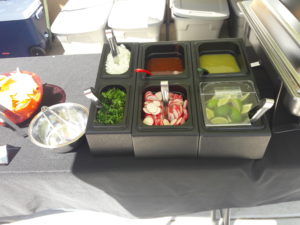 Would You Like a Quote?
Call (909) 559-1561 and Nestor will provide you with excellent service, a quote and will answer any question you might have.